Como actividad relacionada a SugarLoaf PLoP'16, contaremos con la presencia del Dr. Ralph Johnson en la Facultad de Informática de la Universidad Nacional de La Plata (calle 50 y 120), quien nos brindará una charla el lunes 14 de noviembre a las 15:30 hs.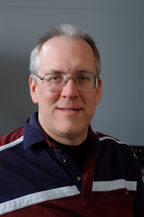 Ralph Johnson
Ralph Johnson es uno de los autores del libro "Patrones de Diseño", el libro seminal en el tema de patrones de software que ha sido best-seller en la historia de la computación (más de 500,000 copias vendidas en inglés y en sus traducciones a 13 idiomas).
Ralph Johnson es reconocido mundialmente por sus múltiples contribuciones de alto impacto en la Ingeniería de Software, particularmente en la Orientación a Objetos. De su grupo de investigación emergieron los primeros trabajos sobre frameworks, patrones y refactoring. También sus alumnos crearon la primera herramienta de refactoring, el Smalltalk Refactoring Browser, sobre cuya arquitectura se basan todas las herramientas de refactoring de la actualidad.
Twenty-two Years of Design Patterns
In the years since 1994, we have learned a lot about the patterns in Design Patterns. Some have become common, others are not. Some of the patterns have changed. Ralph Johnson will talk about several of the patterns that are most widely used in Smalltalk, and describe what Design Patterns should have said.
---
Veintidos Años de Patrones de Diseño

Durante los años siguientes a la aparición del libro de Patrones de Diseño en 1994, hemos aprendido mucho sobre patrones. Algunos se han vuelto comunes, y otros no. Algunos patrones han cambiado. Ralph Johnson hablará sobre varios de los patrones que son más ampliamente conocidos, con un renovado entendimiento de lo que el libro Patrones de Diseño debería haber dicho.
---