SugarLoaf PLoP
SugarLoafPLoP'2016 Tango Edition will be held in Buenos Aires (city) is the capital of Republica Argentina between November 16th and 18th, 2016. This is the first time that the SugarLoaf PLoP conference has been held in Argentina. More information can be found here.
Design Pattern Books
The Design Patterns Book Series showcases many patterns from PLoP conferences and leading experts in the patterns field.

See our Pattern Book Library filled with over 80 Pattern related books.
Design Patterns Resources
Top Headline
Other Headlines
The premier Latin American Pattern Languages of Programs will be held outside Brazil for the first time since its inception. The tango edition will be held in Argentina at a date to be determined.
Read More...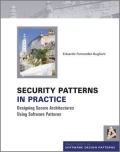 Eduardo Fernandez's new book "Security Patterns in Practice: Designing Secure Architectures with Software Patterns"...
Read More...